Industrial Adhesive Dispensers Made in USA
HG Adhesive Dispensing is an American manufacturer of industrial Meter, Mix, Dispense systems. Our machines are primarily used in glazing, curtainwall, and aerospace applications. If you're looking to pump Dowsil, or GE Momentive adhesives, HG has industrial adhesive dispensers that will work. 55 gallon pumps and 5 gallon pumps are both options, and we can custom build to fit your needs.
Made in the USA
All of our industrial adhesive dispensers are manufactured in the USA. Our factory and headquarters is in Carson City, Nevada. Here at HG Adhesive Dispensing, we have a machine shop where we manufacture the parts to build our pneumatic adhesive dispensers. We do our own milling, lathe work, and engineering on site. We pride ourselves in not only assembling, but making our machines and the parts that go in them. Manufacturing the parts and building the machine on site is why we're so confident in their quality. It's common for our machines to run in demanding environments for decades, needing minimal maintenance.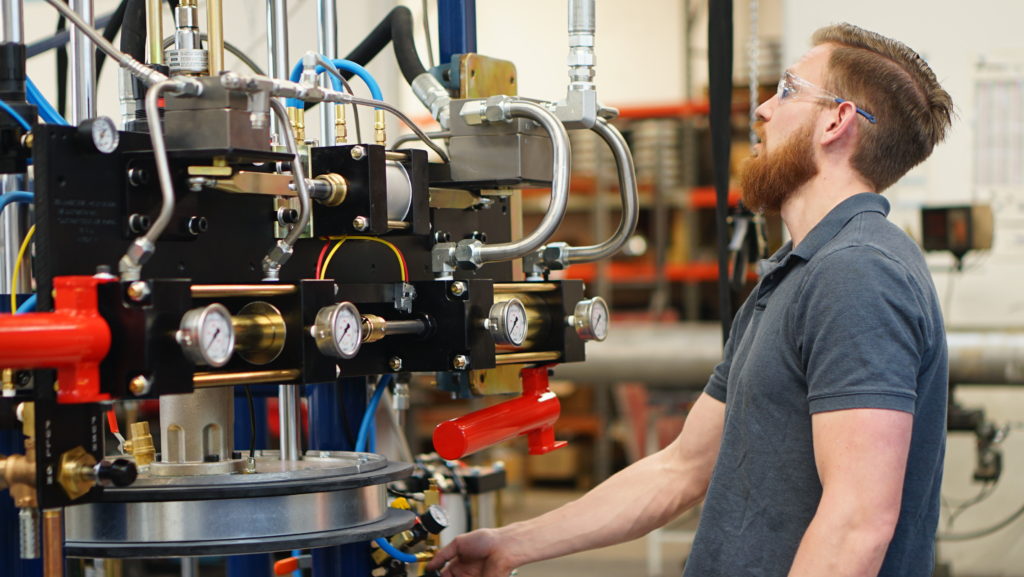 Get in Touch with Us
When you call to ask for information, we can put you on with the mechanical engineers that designed and built the machines. We offer training, troubleshooting, parts, and maintenance for our industrial adhesive dispensers. We do business and trainings both stateside and abroad. The machinist that creates the parts used in our machines works on site, so there's no question too nuanced or intricate that we can't answer. We can supply any part for the machine should you need it, we keep extra parts on hand. If you currently own an HG machine, or are looking for an industrial adhesive dispenser, reach out by email or phone and we can answer any questions you may have. If you have a need for static mixers to use with our machines, check out our sister company, BTmix for high quality, low cost, disposable static mixers.